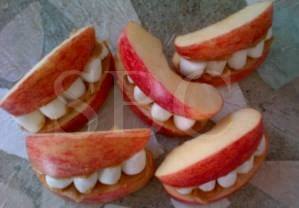 2 red apples, quartered and cored
4 tbsp peanut butter, smooth
1 pkt (100g) Mini-marshmallows
Method:
Step 1. Take an apple quarter and slice it lengthways in half and then half again.
Step 2. Spread peanut butter on one side of each slice of apple
Step 3. Line 6 white mini-marshmallows up (as teeth) on top of the peanut butter.
Step 4. Place another apple slice on top with peanut butter side facing down to make an apple slice 'sandwich'.
Note: For a healthier alternative use banana pieces instead of the marshmallows.
- If you are not using straight away, brush apple slices with lemon to avoid the apple turning brown.